Frequently Asked Questions
This guide is broken into 2 categories: non-members and current members.
Please find answers to your questions below.
We offer group training and private training.
For group training membership, they range from $15-$30/class depending on your goals, motivation and budget.
The best way to get started is to take advantage of our online special that gets you 3 classes, FREE hand wraps and FREE glove rentals for ONLY $19.99. Get it here.
For private training, they range from $46-$50/session depending on the option you choose. The best way to get started with private training is to take advantage of our 3 session warm-up package here.
Please bring workout clothes, indoor shoes, a towel, a water bottle, and gloves/hand wraps if you have them.
If you don't have gloves we rent them for $3/pair and hand wraps are sold for $14.99+HST.
If you have our online special that gets you 3 classes you'll receive FREE hand wraps and FREE glove rentals for ONLY $19.99. Get it here.
The 6 week challenge is our signature program which is FREE as long as you can commit to 3 classes per week, follow your assigned meal plan and check in with your 1-on-1 accountability coach.
This program is for people looking to lose 13-27 lbs.
To qualify, you'll need to book an orientation here.
We're located at 50 Torbay Rd, Markham ON L3R 1G6. The closest major intersection is Woodbine and Steeles.
To get started take advantage of our exclusive web special where you'll get 3 classes, FREE hand wraps and FREE glove rentals for ONLY $19.99+HST. Get started here.
We have class times that range from 6am to 8pm Monday-Friday and 8am-11am on Saturday. See the full schedule here.
Any changes to your membership can be done by completing the membership change form here.
If you are freezing your membership, ensure you are stating the time you'd like to freeze.
If you are canceling your membership, please let us know the reason and effective date.
Please note that memberships cannot be frozen retroactively and if you have an agreement, payments will continue but the hold time will be added to the end of your agreement.
For cancellations, some memberships are subject to an early cancellation fee. Please refer to your agreement for details.
If a spot opens up, you'll receive an email to confirm you'd like to attend the class. Please respond to the email ASAP in order to secure your spot.
If you do not confirm your spot, your credit will not be used and returned to your account.
Although we do our best to answer all calls, we don't always have admin staff available. You can email us markham@fightfitbootcamps.com or message your coach directly for support. The next best thing would be to book a support team call here.
If you've left an email or message, please allow 24-48 hours for us to respond.
The best way cancel or reschedule is through our booking app here.
Due to the popularity of our classes we have limited spots so we have a strict cancellation policy.
Please refer to the policies outlined in class you booked in for.
For personal training, we have a 24 hour cancellation policy. Please reach out to your coach directly if you need to cancel after that time.
You may also request personal training or coaching sessions appointments through the booking app.
Because we want to ensure everyone gets a good warm-up to prevent injuries, we have a 5 minute late rule.
If you are running more than 5 minutes late, we ask that you reschedule your class.
We allow clients to self check in to classes and appointments. There are two ways to check-in:
1. Check on via the app.
You can check in by logging into the app here and checking in.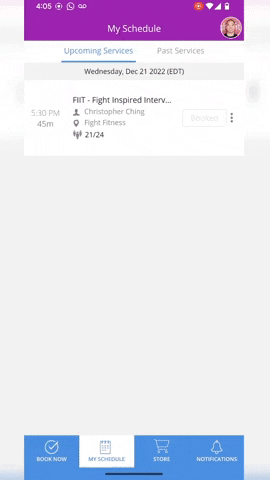 2. Front Desk Tablet
You can check in via the front desk tablet by finding your class and your name and selecting check in.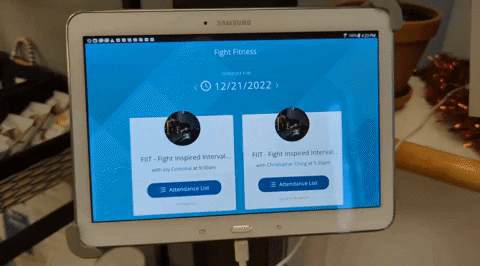 Need more help?
If your question is not answered here, please book a call with our support team below: